Altos BrainSphere™ R389 F4 Server
Altos BrainSphereTM R389 F4 equipped with Intel® Xeon® Scalable series processors, It is a powerful dual 2U system to provide robust performance to fulfill big data analysis, high-performance computing, virtual and cloud computing.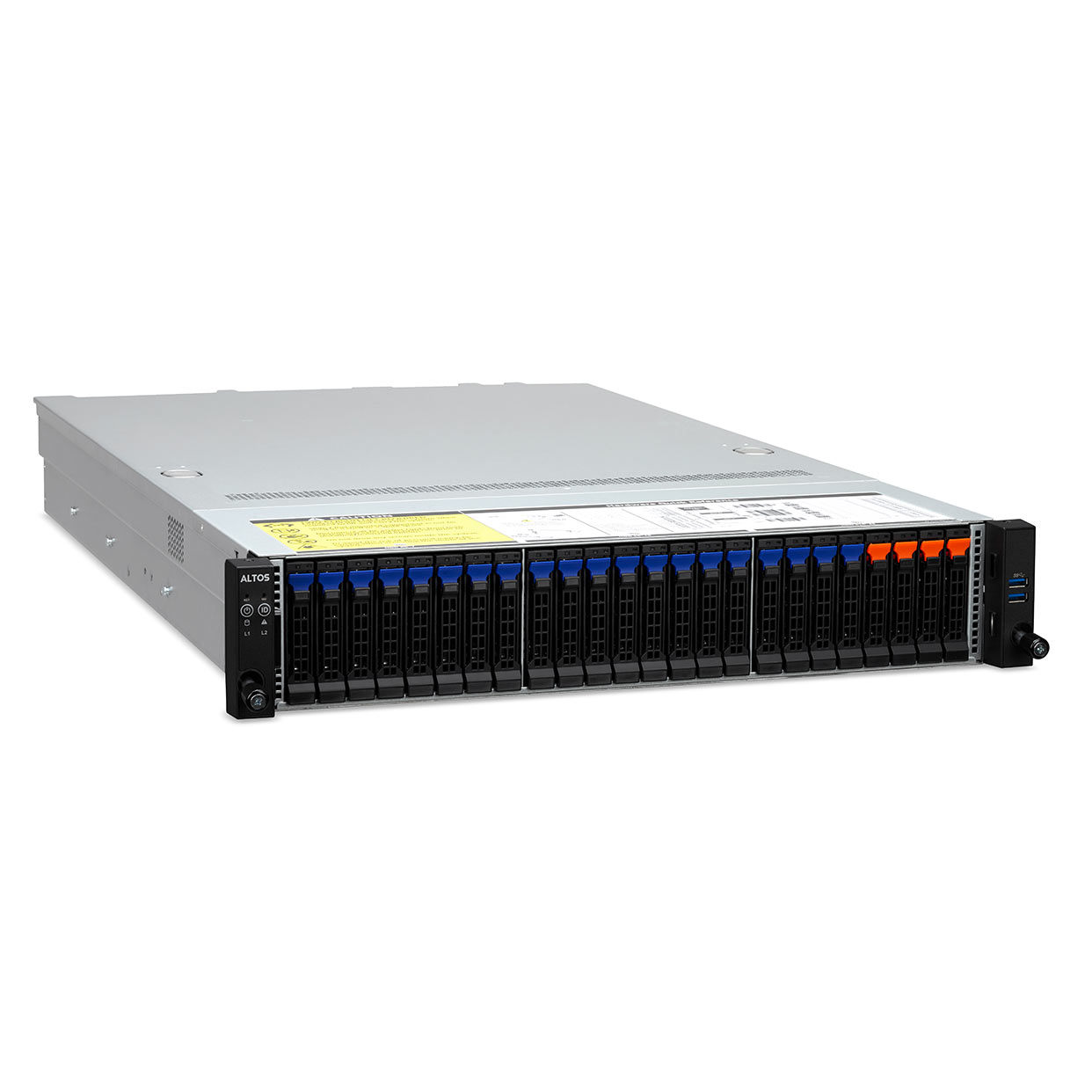 Powerful Computing
Powered by Intel® Xeon® Scalable series with the TDP up 205W and 6 channels of memory per socket, these dual Intel Xeon® processor strikes the perfect balance of computing power, memory, and raw IO, to deliver most optimized performance and support most demanding workloads.
Excellent Expandability
Altos BrainSphereTM R389 F4 provides up to 24 DDR4 DIMM slots, up to 8 PCIe slots, and up to 24 2.5" drive bays, to fulfill demands of high-capacity memory and storage.
Robust Availability
It supports 1+1 redundancy power supply and it comes with multiple options, 800W or 1200W 80 PLUS Platinum power to offer flexibility to meet customer's target budget, while leverage cost/performance. Additional with four hot- swappable system fans, it supports high system availability.
Altos Smart Server Manager (ASSM)
Through the ASSM, IT can remote control and manage the Altos BrainSphereTM server and architecture environment, thereby improving efficiency and corporate productivity. ASSM can manage Altos BrainSphereTM workstations running Microsoft Windows 10 Pro to meet workstation management needs.
Altos BrainSphere™ R389 F4 Server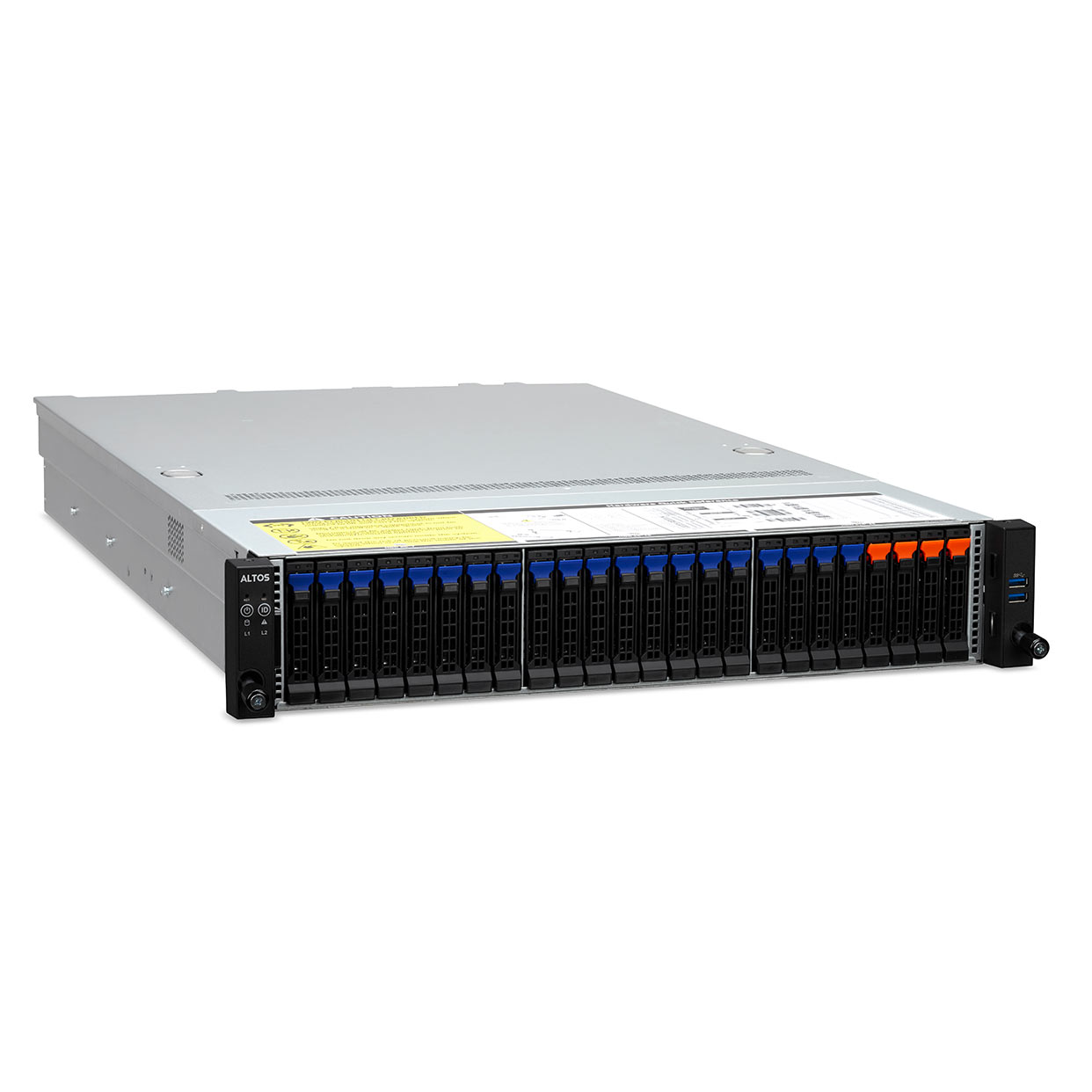 Altos BrainSphere™ R389 F4 Server
Processors: Intel® 1st and 2nd Xeon® Scalable Series, TDP Up to 205W
Power Supply: 1200W 80+ Platinum 1+1 Redundant Power Supply (for 12LFF / 24SFF / GPU SKU)/800W 80+ Platinum 1+1 Redundant Power Supply (for 12LFF / 24SFF SKU)/550W 80+ Platinum 1+1 Redundant Power Supply (for 12LFF / 24SFF SKU)
Specification
Processors
Intel® 1st and 2nd Xeontel® Scalable Series, TDP Up to 205W
Number of Processor
2
Form Factor
Full-width 2U enclosure
Memory
DDR4-2933MHz RDIMM / LRDIMM Memory, 24 DIMM slots
I/O Expansion
3 PCI-E 3.0x 16 slots, 2 PCI-E 3.0x 8 slots, 2 OCP 3.0 mezzanine slots
Management Network Interface (Controller)
Dual 1GBASE-T LAN ports (Intel® I350-AM2)
Internal Storage
12x 3.5/2.5" HDD bays (for 12LFF and GPU SKU)
4x 2.5" U2 and 20x 2.5" HDD bays (for 24SFF SKU)
Power Supply
1200W 80+ Platinum 1+1 Redundant Power Supply (for 12LFF / 24SFF / GPU SKU)
800W 80+ Platinum 1+1 Redundant Power Supply (for 12LFF / 24SFF SKU)
550W 80+ Platinum 1+1 Redundant Power Supply (for 12LFF / 24SFF SKU)
OS Support
Microsoft® Windows Server 2019, 2016
Red Hat Enterprise Linux 7.4
VM VMWare ESXI 6.7 Update 3
Dimension
W438 x H87.5 x D730 mm